Hamper making bid for commissioner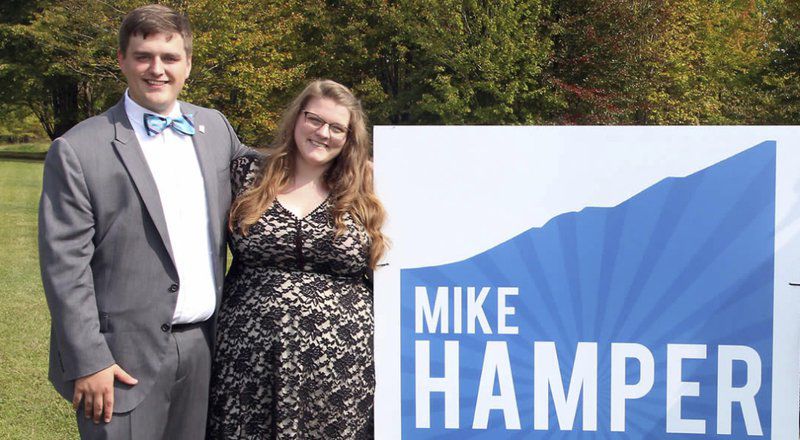 JEFFERSON — Jefferson Village Solicitor Michael Hamper III, a Democrat, said he plans to submit petitions to run for the county commissioner seat that's up for grabs in this year's general election.
"I think that we are not positioning ourselves to be competitive for 50 years down the road," he told the Star Beacon Friday. "I think that there are steps we need to be taking to secure that future.
"I think we can do a better job. I know I can do a better job.
The 28-year-old Ashtabula resident, an attorney who partnered this month with former village solicitor Jerome Lemire's firm — now Lemire and Hamper LLC — along East Beech Street, said he'll seek to build a more interconnected Ashtabula County through stronger municipal communication and partnerships.
"People are disconnected from each other. We have this imaginary dividing line around Jefferson, of north county and south county, which shouldn't exist," he said. "We have one county and one future."
On Hamper's official website, ElectHamper.com, he calls for a more "holistic" approach to economic development and job growth, and said he sees the region's successes in agribusiness as a platform for more growth.
As an attorney, Hamper said he feels like "a broker" — someone who's able to plug opportunists into "positions of success." He said he's been taking cues from Radius CoWork of Erie, a collaborative workspace designed to push new entrepreneurs and placemakers toward revitalizing the city.
"I can think of no person who is going to expand Ashtabula County than someone who is born here," he said. "So much of our capital and efforts are spent trying to attract people here, and we have ignored so many of our local people."
Those local opportunists could be about his age, he said, citing a 2015 study that indicates one-third of the county will be 60 years or older in the next 22 years.
"If we want a meaningful county where we have good job opportunities, good income, better health of the county as a whole financially … we need to have a population base that's younger," he said.
Hamper said some of those peers spend more on their Internet bills than electricity. He also lists bolstering the region's Internet infrastructure as a priority — a much-needed tool for for developing industry that requires fast, reliable networking, as well as the education sphere.
"Fiber is the future. … I'm talking meaningful Internet access," he said. "Our kids come home from school with (Google) Chromebooks — but so many kids don't have Internet access at home.
"Because so much of their work has to be done online or submitted online, this is an issue for the future of Ashtabula County," he said. "This is something worth investing our time and energy into."
If elected in November, Hamper would be required to step down from his part-time role as village solicitor. He indicated, however, he would attempt to maintain his position with his Jefferson firm, which he said largely consists of court filings made from his Jefferson office. He added he would not litigate cases that involve the county.
Hamper is a Lenox Township native and a 2007 Jefferson Area High School graduate. He lives in Ashtabula with his wife Carmen.
He earned a bachelor's in political science from Ohio Northern University in 2011, and in 2014 received his law degree from the university's Claude W. Pettit College of Law, graduating at the top 25 percent of his class. He began working in Lemire's office the following September.
He also holds spots on the Jefferson Area Chamber of Commerce Board and the Ashtabula County LEADERship board of trustees, and provides legal counsel for the Ashtabula County Young Democrats.
Hamper is set to face incumbent county Commissioner Casey Kozlowski, a Republican, who announced in November he will seek a second term.
http://www.starbeacon.com/news/local_news/hamper-making-bid-for-commissioner/article_b2c3cd15-5699-5fe8-acd9-27f116d30bdc.html